If you are a professional welder, you know that you have many different choices when it comes to your equipment.  There are a plethora of brands for a variety of areas of the trade.   From Tweco welding guns to Black Stallion gloves, the choices are seemingly limitless.  While welding torches and gloves are important, arguably the most important piece of equipment is the welding power source.  For serious welders in the United States, there are really only two brands to talk about.
Miller Electric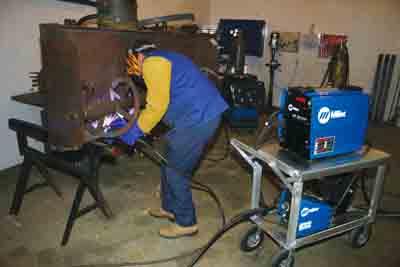 The first of these, but not necessarily foremost, is Miller Electric Manufacturing Company based out of Appleton, Wisconsin.  Now owned by Illinois Tool Works, Miller has been making welding equipment for over three quarters of a century now.  They have a variety of solutions for your welding needs.  They have gas metal arc welding (GMAW) and gas tungsten arc welding (GTAW) solutions for the hobbyist, such as the Millermatic and the Diversion.  They also have solutions for heavy manufacturing such as the Syncrowave and the Continuum.  For the construction industry the have the XMT.  They also developed the Auto-Axcess for robotic applications.  
Miller Electric
has been making welding power sources for a long time now, and their quality products under the operation of a skilled welder will most definitely produce satisfactory results.
Lincoln Electric
For those welders who aren't so fond of the color  blue, there is another manufacturer to meet your needs: The Lincoln Electric Company.  Lincoln Electric began before the twentieth century, but they didn't start creating welding machines until around the time the Model T was released.  The rest is history.  From then on out they have made and continue to make some of the most popular welding power sources in the world.   They, like Miller Electric, offer a wide range of welding power sources to meet industry needs.  Power MIGs and Invertecs for the garage welder.   Power Waves for large manufacturing operations.   Flextecs for when a variety of welding processes are needed out of one power source.  If you need to weld it, chances are
Lincoln Electric
power sources can help you get it done.
Truthfully, I have barely scratched the surface of the equipment offerings these Miller Electric and Lincoln Electric offer.  Visiting their websites or talking to a sales representative at your local welding supply store is the best way to determine how your welding equipment needs can be satisfied by these two companies.  As previously mentioned, there are many different welding equipment manufacturers out there, but if you go with a Lincoln or a Miller, you can bet you will get your money's worth.